Don't Miss Out On The SAVINGS!!!
Early-bird Registration Closes Soon!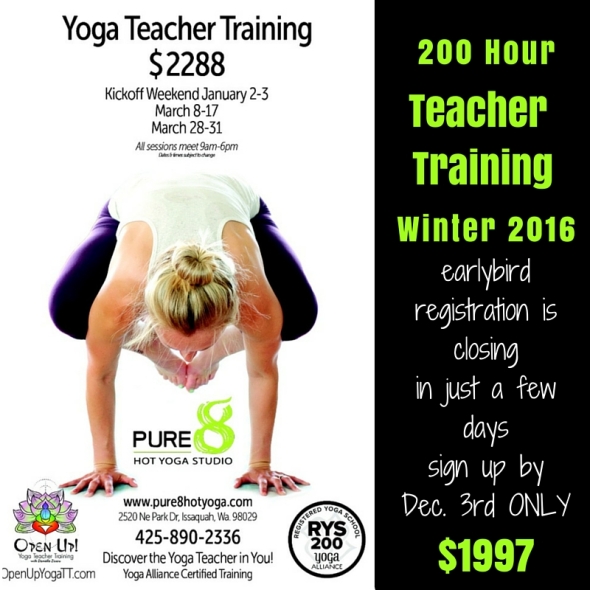 New Years Manifestation Workshop by Candlelight!
with
Intuitive Reader Meredith Froemke!



Bring your wildest New Year's Resolutions to the workshop and we will make them come alive!

This is an important time to remove all the past negative energy and usher in a fresh start with fresh energy. What does your heart ache for? What does your soul long for? What is missing in your life to give you greater happiness and freedom? Together, believe it or not, we can manifest it! Together we can create significant and profound changes in your life, melting the road blocks and any negativity from your life! Meredith will teach you how to connect to Spirit and create ANYTHING you want in your life. If you don't believe in miracles – you soon will!
These workshops sell out quickly and space will be limited, please purchase ASAP to secure your spot by clicking the link below or call 425-391-8440.


SIGN UP NOW BY CLICKING HERE!



-Get Started Today!-
View Our

Class Schedule


And Find A Class That's Right For You!
Upcoming Events
Weekly Karate Classes
>Click here to enroll<

January 1st
New Years Manifestation Workshop
January 2nd
200 Hour Vinyasa Teacher Training Certification, Winter 2016 Kickoff
Click here to learn more.
January 3rd & 10th
Mindful Practice Workshop

Click
here
to learn more.
Fall Registration is NOW OPEN for Pure 8's KIDS KARATE PROGRAM!


Join SENSEI JESS JESSUM to explore the disciplined practice of martial arts, offering
strength, flexibility & power.


SPACE IS LIMTED, SIGN UP TODAY!
New Student Special
Explore the yoga practice and everything it has to offer mind, body & soul with this incredible
NEW STUDENT INTRO SPECIAL!
Unlimited Yoga
2 weeks UNLIMITED YOGA
Only $30*

1 month UNLIMITED YOGA
Only $50* (a $149 value!)

Sign Up Today!
*Intro offer good with initial sign up. Valid for new customers only.
Sign Up To Receive
Stay up to date on important news, specials & promotions.
Welcome to Pure Hot Yoga Studio
Welcome to Pure 8 Hot Yoga! We are located at the Starpoint shopping center in the urban community of the Issaquah Highlands. Pure 8 hot yoga studio strives to provide quality hot yoga classes for our students allowing you to achieve a healthy mind and body through excellent training and quality customer service. Come find your inner yogi in any of our intense and exciting hot yoga classes including, power vinyasa, hot hatha, yoga barre or the wildly popular yoga sculpt! Our hot yoga room is equipped with a state of the art infrared radiant heating system, offering a heated enviroment to warm your muscles, prevent injuries and allow for a deeper release. Can't wait to see you on the mat!
Pure 8 Hot Yoga Studio • 2520 Ne Park Dr • Issaquah, Wa. 98029 • ph: 425-391-8440